Labor and Workplace Studies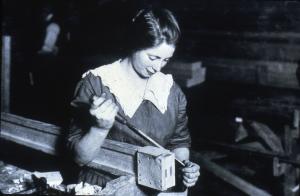 The University of Maryland (UMD) Libraries is home to numerous special collections  holdings that relate to Labor in America.  The collections consist of international labor unions as well as Maryland-related labor movements and issues. The digital surrogates within Labor in America not only document specific labor unions, such as the United Brotherhood of Carpenters and Joiners of America (UBCJA) and the Cigar Makers International Union, they also illustrate how labor and labor movements developed in North America from the colonial times to the present day.
The Labor and Workplace Studies digital collection is continuously being updated by researcher requests from Special Collections materials, as well as special projects within the UMD Libraries. The digital surrogates in Labor and Workplace Studies  provide only a glimpse into the myriad of primary documents and image resources available to researchers on this topic.  Researchers interested in delving further in the UMD Libraries' labor collections should also consult the Labor in America subject guide.